MyFreeCams.com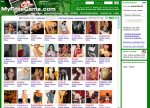 MyFreeCams.com (MFC) is an online webcam network connecting men and women from all over the world through high-speed live video chat with full audio support.
Unlike other webcam sites, MyFreeCams.com works like a huge friendly webcam community, with over 5 million members. The members are generally more respectful and interesting than in other webcam sites. You can follow the links to the site and see for yourself.
It offers very good technology for models and members, offering both the best possible experience. Models have unlimited opportunity for being creative and making the most out of experience on this site.
It's a great site, recommended for all of you that are willing to try an experience as a webcam model.
Webcam Broadcast Network (click to list other sites of this network):
MyFreeCams